Shoppers News
Shoppers News English language guide to business and services for U.S. and Nato military, diplomats, ex-pats, tourists and visitors to Germany and neighbouring European countries
---

R+S MOTORRÄDER GMBH
The Indian Motorcycle Saarland branch has been located under the roof of R+S Motorcycles since the spring of 2017. This has given the Indians in the Saarbrücken area a competent dealer who offers more than just the selling of series vehicles.
Here you get the complete spectrum. Starting with all new models, through the workshop service, to the complete range of accessories and much more …
---

Dr. Bianca Knoll
Dr. Bianca Knoll is a board certified plastic surgeon and graduate of the plastic surgery training program at Yale University where she also completed a 2-year basic science research fellowship. Her clinical and basic science research were related to craniofacial and aesthetic plastic surgery. She has authored several papers and book chapters in these areas.
---
---


Floating in K'town
In the USA and Australia Floating is already popular and meanwhile popularity is on the increase in Europe as a Highlight in wellness areas. Clinics and practices are now even offering floating as a supplementary treatment of acute and chronic diseases and for rehabilitation.
---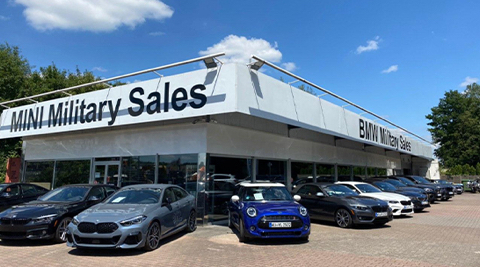 Now delivering from Kaiserslautern
Bavarian Motor Cars is the Official BMW Military Sales Program partner for U.S. service personnel stationed in NATO countries.
You benefit from massive military discounts on all BMWs, a tax-free purchase, convenient delivery options, free home shipping, free stateside maintenance and the Bavarian Motor Cars Best Deal Guarantee.
All BMWs are U.S. spec, and comply with U.S.import requirements, so that once your tour is over, you can continue to enjoy your BMW back home in the United States.

Phoenix HiFi-Studio
Kaiserslautern
High Class Audio Equipment since 1977
Individual advice for audio and home cinema gear, Pick-up Cartridges & Turntables, Professional Record Cleaning Service, Insurance Expertise, Repairs on request
---
EULER MILITARY SALES
With over 44 years of experience, multiple locations and an exclusively dedicated Military Sales team, Euler is the place to go for BMW and MINI sales and service – all under one roof!
Your premium automobile source while stationed in Germany.
---
---