MOTORRAD CENTER TULLIUS GMBH
Contact
Eisenmännchenstrasse 4
65201 Wiesbaden
Tel.: 0611 182106-0
Fax: 0611 182106-13
Opening hours
Monday – Friday
09:00 – 13:00
14:00 – 18:00
Saturday
09:00 – 13:00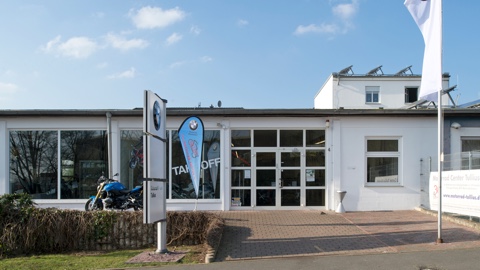 RENT A MOTORCYCLE
WHAT WE NEED FROM YOU:
Class A driving license
Security deposit (cash or credit card)
Rental amount (cash or credit card)
Carefree driving pleasure
You have the opportunity to rent top-maintained motorcycles through our master workshop. In addition to the vehicle rental, the rental price also includes liability and partial comprehensive insurance with €300 or fully comprehensive insurance with €1000 deductible.
OUR SERVICES
EVERYTHING FOR YOUR BIKE:
Master workshop
The next inspection is due? Then come to our master workshop!
Motorbike rental
A day of driving fun with another motorcycle? No problem for us, we offer many of our current motorcycles for rent.
More services
Original parts and accessories
Replacement vehicle
Used vehicles
TÜV
With us in the house you can have the HU carried out by the TÜV
Clothing shop
Do you need the right outfit for your next tour? With us you will find the right motorcycle and leisure clothing and the latest helmut collection!
LOCATION
HOW TO GET THERE:
Motorrad Center Tullius GmbH
Eisenmännchenstraße 4
65201 Wiesbaden
Germany
MORE QUESTIONS?
VISIT OUR WEBSITE: